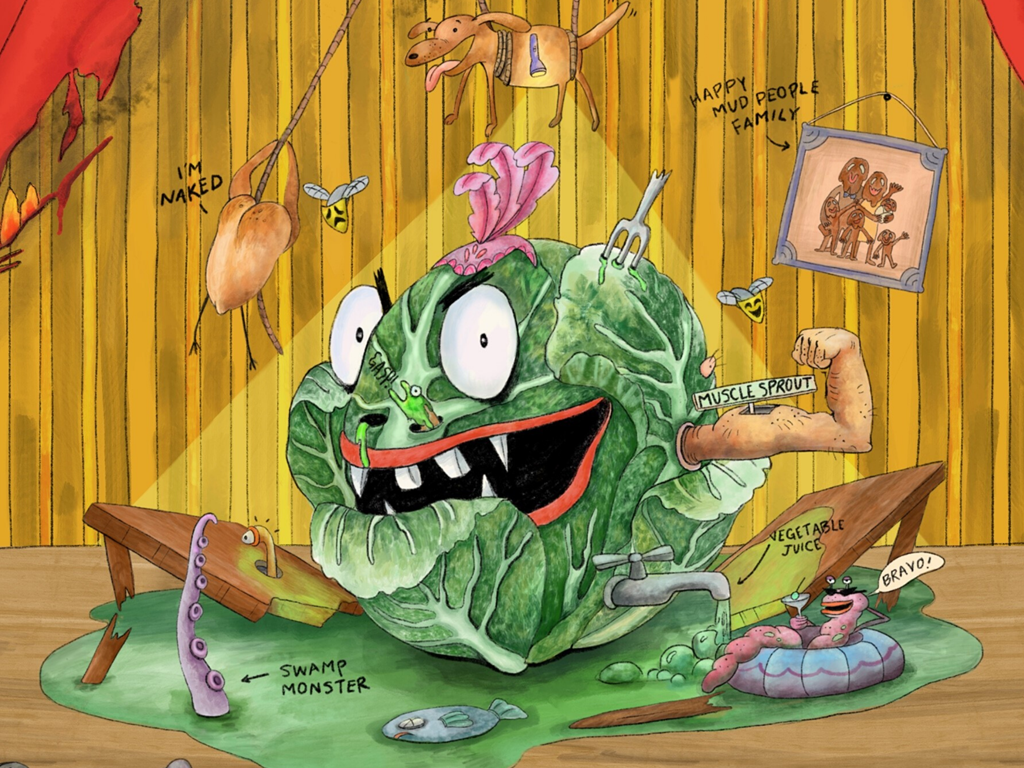 Red Line Productions presents
JUST Tricking, Annoying, Stupid, Crazy, Disgusting, Shocking, Doomed LIVE ON STAGE!
11 - 13 Oct 2021
IMPORTANT UPDATE 15 SEPTEMBER 2021: In light of the ongoing impact of COVID in Greater Sydney, this event has been cancelled. If you are an existing ticketholder, you will be contacted by our Box Office.
Andy Griffiths' JUST books are brought to vivid and hilarious life in this world premiere.
Every year Andy's school holds a short story competition and every year Andy writes an awesome, captivating, TERRIFYING story. But every year he is robbed of winning, thwarted by dumb stories about kittens and sunshine. How is that possible?!
Because Mr. Rowe is against him–the game is rigged! Mr. Rowe wouldn't know a good story if it jumped off the page and bit him on the bum. What kind of person doesn't like action and monsters and explosions and aliens?!
Who cares that technically Andy's been banned from entering the short story competition after last year's… incident. This year he knows the prize is within his grasp. All he has to do is write the most INCREDIBLE story the world has ever read! Easy!
With the help of his best friend, Danny, the love of his life, Lisa (but if you tell anyone he said that, he'll feed you to a giant slug), his somewhat trusty dog, Sooty, and a lifetime of crazy, shocking, and just plain DISGUSTING experiences, Andy sets out on an adventure that will ensure flawless victory. As long as his brussels sprouts farts don't poison them all before morning!
Please note this event was originally scheduled for 17 - 19 August 2021.
"The JUST series is where it all began for me and it will be JUST amazing to see these crazy/annoying/stupid stories come alive on stage!"

Andy Griffiths
Tickets: School groups $23 per student. One teacher free per 10 students, additional teachers at student price.
Suitability:
Years 3 – 6
Stage 2 English, Creative Arts, PDHPE
Stage 3 English, Creative Arts, PDHPE
Resources: Teacher resource kits will be available for all bookings.
Adapted from the JUST books series written by Andy Griffiths and illustrated by Terry Denton
Playwright Robin Goldsworthy
Director Blazey Best
Set and Costume Design James Browne
Composition and Sound Design Nate Edmondson
Lighting Designer Veronique Benett
Magic Consultant Harry Milas
Company Stage Manager and Production Manager Rebecca Poulter
Cast Jack Angwin, Kelly Monisse, Sam Bowden

We are a registered COVID-Safe business and we're committed to making your Seymour visit as safe and enjoyable as possible.
This show will be open to 50% seated capacity. Please consider your comfort levels before booking as you will likely be seated next to other booking groups.
School groups are exempt from QR code registration requirements if they provide the name and phone number of two designated contacts. These contacts must be able to provide the names and contact details of all group members if contacted by NSW Health.
Schools are responsible for ensuring that any staff and students who are unwell, awaiting a COVID test result, or under instruction to self-isolate do not attend.
All patrons over 12 must wear a mask while inside our foyers and theatres. We also request patrons remain in their seats to help ensure a calm and safe experience for all.
Find out about our other COVID safety measures here.
Everest Theatre
| | |
| --- | --- |
| Mon 11 Oct | 10am, 12:30pm - CANCELLED |
| Tue 12 Oct | 10am, 12:30pm - CANCELLED |
| Wed 13 Oct | 10am, 12:30pm - CANCELLED |
Photography and filming prohibited. 
The only authorised ticket seller for this event is Seymour Centre. If you purchase from an unauthorised seller, you risk that your tickets may be fake or invalid.
More Events
27 - 30 Jan 2022

Past Event

21 - 24 Jan 2022

Past Event

11 - 12 Nov 2021

Past Event