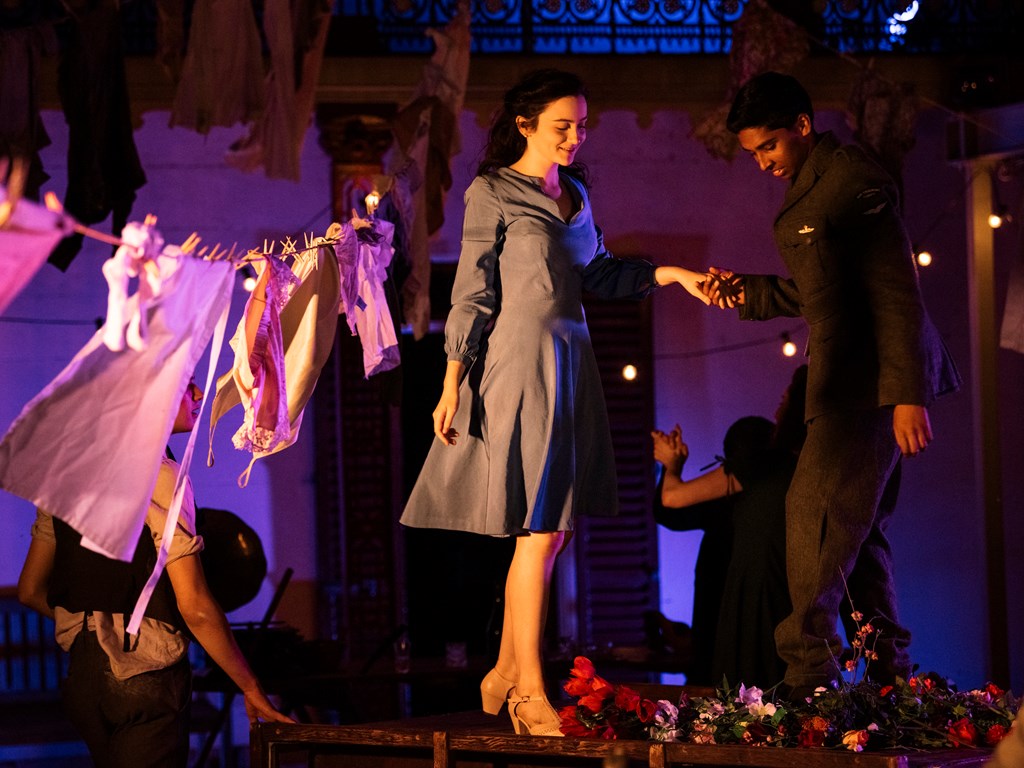 Sport for Jove and Seymour Centre present
Romeo and Juliet
21 - 29 July 2022
"Thou can'st not speak of that thou dost not feel..."
It takes a village to kill a child.
Experience a brand new production of Romeo and Juliet in 2022. This incredible play for young audiences is presented by Sport for Jove and directed by Artistic Director, Damien Ryan.
The existential crisis facing our world today has triggered a deafening chorus of 'How dare you!', screamed from the hearts of our planet's youth. And it's not just about climate issues. What can children teach us in their struggle to be heard?
Sport for Jove's furiously energetic new production of Romeo and Juliet is characterised by a true vision of today's youth. The rarely seen innovation of actual teenagers portraying the play's children—Juliet, Romeo, Paris, Mercutio, Benvolio and Balthazar—surrounded by an extraordinary cast of experienced players, gives this production an authenticity and an honest rawness, imbuing the action with danger and the genuine awkwardness of youth.
Sport for Jove's production takes on the spirit of a filthy Italian opera, driven by love and heat, fights and fevers of the mind, and of course, by Shakespeare's soaring poetry. We are carried to backcountry Verona, a profoundly insular town trapped in cycles of tradition and vendetta, staring out at the future with moral pollution at its heart. Only its children's courage to express themselves will bring change. With the mad blood stirring, two young lovers meet and set in motion the most iconic love story of all time, that of Juliet and her Romeo.
Book your tickets to see one of the most iconic love stories of all time, Romeo and Juliet, at the Seymour Centre. This is a thrilling introduction to Shakespeare for young audiences and a vitally important work for students to experience live.
Image credit: Seiya Taguchi
"Ryan's theatrical flair and directorial flourishes... are his strongest since 2016's superlative Antigone."

The Sydney Morning Herald
Writer William Shakespeare
Director Damien Ryan
Lighting Designer Sophie Parker
Vocal Composers Drew and Naomi Livingston 
Set Designer Damien Ryan
Costume Designer Bernadette Ryan
Tickets
$30 per student. One teacher free per 10 students; $30 for each additional teacher.
Payment
Find out how our school bookings process works. Full payment for this event is due by Thu 26 May 2022.
Curriculum links
Suitable for students in years 7 to 11:
Stage 4 English, Drama.
Stage 5 English, Drama.
Stage 6 Preliminary English, Drama.
Detailed curriculum links can be found here.
Post-show Q&As
Join director, Damien Ryan, for a 15-minute Q&A following each daytime performance.
Workshops
Workshops can be organised through Sport for Jove. Please contact the team at info@sportforjove.com.au for further information.
Resources
Digital Student Resource Kits will be distributed following each performance. Kits include lesson activities, an analysis of the play, a detailed guide to this production, videos, photos and design insights.
Your visit
Find out how to get here, where to eat and when to arrive.
Find out about our COVID-Safe measures.
Risk assessment
Find our 2022 risk assessment information here.
We are a registered COVID-Safe business with measures in place to make your next Seymour visit safe and enjoyable. You can find out more about our safety measures for the general public here and for school groups here, and we will also send safety information directly to you prior to your visit. To ensure we can reach you, we recommend checking that your contact information is up to date.
York Theatre
| | |
| --- | --- |
| Thu 21 Jul | 11:30am |
| Fri 22 Jul | 10am |
| Sat 23 Jul | 7pm |
| Mon 25 Jul | 10am |
| Tue 26 Jul | 10am |
| Wed 27 Jul | 10am, 1:30pm |
| Thu 28 Jul | 10am |
| Fri 29 Jul | 10am, 7pm |
| Mon 15 Aug | 10am - NOT PROCEEDING |
| Tue 16 Aug | 10am, 1:30pm - NOT PROCEEDING |
| Wed 17 Aug | 10am - NOT PROCEEDING |
| Thu 18 Aug | 10am - NOT PROCEEDING |
| Fri 19 Aug | 10am, 7pm - NOT PROCEEDING |
110 minutes (no interval). 15-minute Q&A follows each daytime performance.
| | |
| --- | --- |
| School student | $30 |
| Teacher | $30* |
| General public | $30 |
$6 transaction fee applies.
Please note only one Dine & Discover voucher can be used per transaction. Multiple Parents NSW vouchers can be used per transaction, up to a total transaction amount of $250. Dine & Discover and Parents NSW vouchers can only be redeemed when booking online. Please find instructions here on how to redeem your vouchers online.
*One teacher free per 10 students; $30 for each additional teacher.
Contains coarse language, physical violence, sexual references, adult themes, haze smoke, prop weapons and loud noises. Photography and filming prohibited.
The only authorised ticket seller for this event is Seymour Centre. If you purchase from an unauthorised seller, you risk that your tickets may be fake or invalid.
More Events
5 - 14 May 2022

Past Event