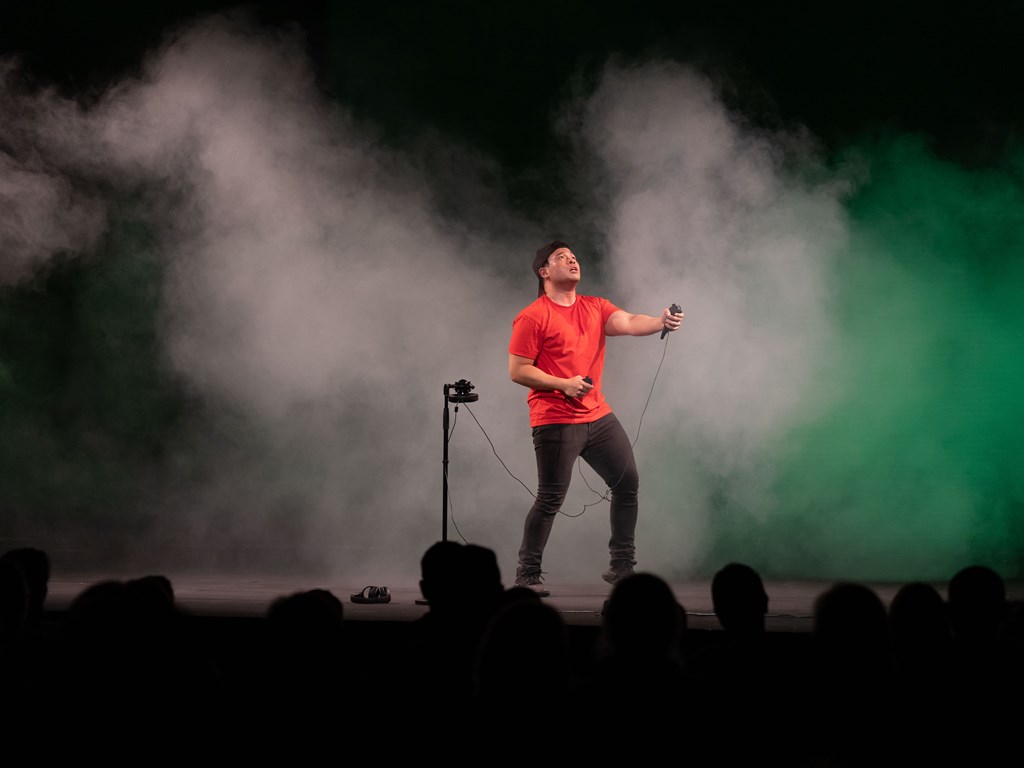 Shaun Parker & Company presents
In The Zone Online Workshops (Term 2)
30 Apr - 2 Jul 2020
Our weekly one hour IN THE ZONE workshops with Western Sydney hip hop dancer Libby Montilla will allow participants to develop their skills and experience in HIP HOP and TUTTING and POPPING which feature in our new work IN THE ZONE.  They'll be able to directly interact directly with our professional dancer Libby Montilla throughout each workshop session. 
Each Creative Kids Package participant will receive a free ticket to see IN THE ZONE performed by Libby Montilla at the York Theatre, Seymour Centre at 10am on Saturday 19 September 2020 (valued at $20). 
A Zoom link will be emailed to participants at least one hour prior to each workshop session.
For further information and FAQs, please refer to the Shaun Parker & Company website. 
Workshop 1 (ages 8 – 12)
5:00pm to 6:00pm weekly on Thursdays from 30 April to 2 July 2020.
Workshop 2 (ages 13-18)
6:30 to 7:30pm weekly on Thursdays from 30 April to 2 July 2020.
BOOK WORKSHOP PACKAGE
Book a package to receive access to every weekly workshop session. Packages can be purchased here.
To book a workshop package with a Creative Kids voucher, complete the Creative Kids booking form.
Learn about CREATIVE KIDS through the NSW Government website.
Artistic Director and Choreographer Shaun Parker
Workshop Leader, Dancer and Collaborator Libby Montilla
Production Coordinator Imogen Bouchier
Workshop 1: Ages 8 - 12
| | |
| --- | --- |
| Thu 30 Apr | 5pm |
| Thu 7 May | 5pm |
| Thu 14 May | 5pm |
| Thu 21 May | 5pm |
| Thu 28 May | 5pm |
| Thu 4 Jun | 5pm |
| Thu 11 Jun | 5pm |
| Thu 18 Jun | 5pm |
| Thu 25 Jun | 5pm |
| Thu 2 Jul | 5pm |
Workshop 2: Ages 13 - 18
| | |
| --- | --- |
| Thu 30 Apr | 6:30pm |
| Thu 7 May | 6:30pm |
| Thu 14 May | 6:30pm |
| Thu 21 May | 6:30pm |
| Thu 28 May | 6:30pm |
| Thu 4 Jun | 6:30pm |
| Thu 11 Jun | 6:30pm |
| Thu 18 Jun | 6:30pm |
| Thu 25 Jun | 6:30pm |
| Thu 2 Jul | 6:30pm |
| | |
| --- | --- |
| General Admission | $10 |
| Concesssion | $8 |
| 10 Session Package | $94 |
$2 booking fee applies to single sessions
$6 booking fee applies to 10 Session Package