From our friends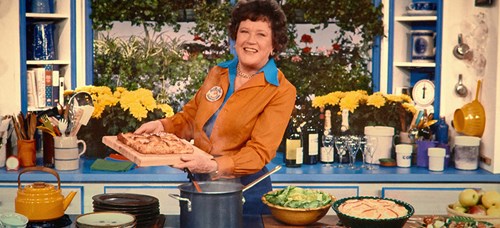 Thanks to our friends at Sony Pictures, we have five double passes for Julia to give away!
Opening in cinemas on 4 November, Julia tells the story of legendary cookbook author and television superstar, Julia Child, who changed the way Americans think about food, television, and even about women.
Using never-before-seen archival footage, personal photos, first-person narratives, and cutting-edge, mouth-watering food cinematography, the film traces Julia Child's surprising path, from her struggle to create and publish the revolutionary Mastering the Art of French Cooking (1961), which has sold more than 2.5 million copies to date, to her empowering story of a woman who found fame in her 50s, and her calling as an unlikely television sensation.
To win one of five double passes to see Julia in any participating cinema Australia-wide, please email competitions@seymour.sydney.edu.au with JULIA in the subject line, and tell us in 25 words or less about your favourite thing you cooked during lockdown and why.
Giveaway closes 11:59pm AEDT on Sunday 31 October and winners will be contacted by email shortly afterwards. 
Full double pass conditions:
Valid even with "No Free Tickets". Offer is valid at participating cinemas.
Not valid at Village Cinemas Gold Class, Vmax, VPremium, 4DX or VJunior. Not valid at EVENT Cinemas Gold Class or VMAX. Not valid at HOYTS LUX, Xtremescreen or HOYTS IMAX®. Not valid at Nova Deluxe. Not valid at Ace Gold Lounge and ACEMax. Not valid Reading Cinemas Gold Lounge, Premium and Titan XC. Not valid at Dendy Premium or Lounge cinemas. Not valid at Grand Gold Lounge and Grand Cinemax.
Not valid for 3D sessions, special event screenings, public holidays, discount days and Saturdays after 5pm. Not transferable, exchangeable or redeemable for cash, and not valid for mobile or online ticketing options.
Seating is subject to availability. Always check with the cinema for details and validity.
From outstanding theatre, music and dance to innovative shows for kids, you'll find something for everyone at the Seymour. Click below to see what's on.
See What's On