Seymour Centre presents
Seymour Nights
7 May - 26 Jun 2021
Seymour Centre is proud to present its new contemporary music program, Seymour Nights, launching this autumn and winter with ten live performances from some of the most vibrant voices in Australian music.
Championing local artists and new sounds, and featuring a well-stocked bar and a food truck serving delicious hot dishes and organic sweet treats at the outdoor gigs, an evening at Seymour Nights is the perfect way to relax after a busy day. 
The program begins in May with free gigs at dusk in the courtyard, with beloved big names like alt-bluegrass outfit, The Morrisons, and award-winning Indigenous duo, Stiff Gins, appearing alongside rising stars like The Heart Collectors, Saije, Tom Myers and more.
Then, in June, the program moves indoors to the warm and intimate surrounds of the Sound Lounge, with six concerts and a diverse repertoire of new music presented by our friends at Musica Viva, Ensemble Offspring, Squabbalogic and Sydney Conservatorium of Music.
Trying to decide what to do tonight? Bring some friends, enjoy some drinks, and celebrate the return of live music with us.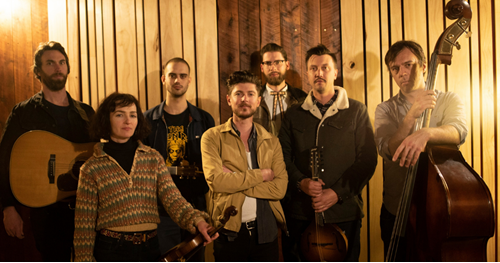 Due to the weather and the evolving COVID-19 situation in Sydney, tonight's Seymour Nights will be postponed. Stay tuned for more info!
The Morrisons have cemented their place as the darlings of the Sydney folk scene, blending Australian stories with the sounds of bluegrass and old time music.
They have warmed stages for many international acts including Justin Townes Earle, Nathaniel Rateliff, Lake Street Dive and Marlon Williams. They have appeared at major festivals around the country including, Woodford, Port Fairy, The National, Out On The Weekend, Secret Garden, Blue Mountains and many more. 
Their recorded output features collaborations with legendary Australian Didgeridoo player William Barton, Aria award winners All Our Exes Live in Texas, and Matt Mason from Australian super group DMA's.
They have been nominated for a Golden Guitar and won an Australian Song writing Award. In 2019 their show, Man of Constant Sorrow: A Tribute to the Music of O Brother, Where Art Thou?, was performed to a sell out crowd at Angel Place's City Recital Hall. On top of this it also received marquee billing at the 2016 Spectrum Now and Vivid Festivals. The show has featured collaborations with All Our Exes Live In Texas, Brian Campeau, Ngaiire, Luke Escombe and Tommy Dean.
Free event. No tickets or registration required.

Set 1: Tom Myers
Tom Myers is a multi-instrumentalist singer/songwriter from Newcastle, Australia.
Tom's solo music is an electrifying display of what happens when he steps out in front of the the drumkit, upturns expectations and fully pours out his soul. As much indebted to the alternative music of his youth as the experimental rock perfected by his former outfit, his songs glide through chord changes like Daniel Johns doing Neon Ballroom, fronted by a dynamic voice we're only used to hearing on backing harmonies. 
The worst-kept secret about Tom Myers is he was always a songwriter as well as a formidable cymbal-smasher. It's no surprise to his former bandmate and producer, Gus Gardiner, who helped Myers craft his sound in rented rooms across the world.
Myers' way around a melody was honed not only during his tenure in the critically acclaimed Papa Vs Pretty, but also as a touring and session drummer for an array of Australian artists, including Jack River, Thelma Plum, Kim Churchill and Dean Lewis. Needless to say, over the past decade he's played on enough songs to know what a great one sounds like.
His forthcoming EP, On My Head, mixed and mastered by dream team Paul McKercher (Eskimo Joe, You Am I) and William Bowden (Shihad, Szymon), retains some classic elements Myers' work is known for, like multi-layered harmony, bruising drumming and unique intonation. But it also throws in fuzzed-out guitar solos, sudden chord changes and the sort of lead lines you can only sing while standing up. Smart and going straight for the gut, it positions Myers in the camp of some of his former EMI labelmates, including Something For Kate, Silverchair and Radiohead.

Set 2: The Heart Collectors
"Imagine Fleetwood Mac with more of an organic, Celtic-inflected lilt of vocals and melody and you have a rough idea of why Australia's Heart Collectors are so instantly appealing. There is a vibrant and timeless allure to their music that is resistant to the fashion of the moment, and all the more enduring because of it. Kymrie's voice is the stuff angel's wings are made of." - John T Davis, author of Austin City Limits: 25 Years Of American Music
With the sentimentality of '70s inspired harmonies, Australian four piece 'Epic Folk' band The Heart Collectors have graced stages around the world, accomplishing three international tours and releasing four studio albums. Picked as one of the 'Top Bands To See' at SXSW (The Austin Statesman), this independent group have found creative ways of staying connected throughout the 2020 lockdowns and the cancellation of their USA and UK tours.
The Hearts released their latest album Time To Say I Love You (2020) one single a fortnight, featured on Spotify with The Guardians 'Australian Music for Isolated Times' and Sounds Australia's 'Sounds Australia Selects' playlists. In September 2020, The Hearts were selected to be one of 12 Australian artists for the Premier Event Global Music Match - a worldwide initiative to connect musicians and industry in the face of COVID-19 restrictions.
The Heart Collectors have momentum in 2021, joining Folk Alliance International for 'Folk Unlocked' Private Showcases, 'ISOL-AID Unlocked', and the 'Artists In (Their) Residence' programme. Now as possibilities are opening for touring in Australia again, The Hearts embarked on a Statewide tour of Tasmania this January/February to sold-out audiences.
With soaring cello, intricate guitar, sparkling mandolin, boot banging banjo, passionate strikes of a tambourine and the thundering of the bodhran, these four charismatic performers create real musical synergy, marrying progressive folk/rock sensibilities and clean classical precision.
Get ready to have your heart collected…
Free event. No tickets or registration required.

Set 1: Saije
Saije is an award-winning, contemporary folk duo whose soulful harmonies, dynamic guitar-lines and percussive breakdowns breathe life into heartfelt stories. Their songwriting is crafted from the depths; stirring melodies bound together with graceful lyricism. Through multitasking techniques, the pair create a full-bodied sound enriched by flavours from their travels around the globe.
After being awarded Folk Alliance Australia's 'Young Artist of the Year' (2019-2021), Saije toured their latest release, Kindred, throughout Australia and Canada in early 2020. On their 2021 'Rekindle Tour' the pair carried their music and messages of connection to the far-flung corners of Australia, with unifying performances and a warmth that filled small halls and overflowed from large festival stages.

Set 2: Stiff Gins
Stiff Gins combine stunning harmonies and wicked senses humour to transport listeners to a world of joy, spirit and song. Their moniker is a reclamation of an offensive reference to Aboriginal women, a banner to guide their music in the direction of strength and pride.
Three albums and countless breathtaking shows later, the name has become synonymous with musical excellence. Fresh off the stage from their epic visual theatre project, Spirit of Things: Sound of Objects, they are forging forward.
In their twentieth year they soar into their most intriguing music making yet with a new recording and sound design project in the works.
Free event. No tickets or registration required.

Set 1: Nardean
Born and bred in Sydney's west to an Egyptian family, Nardean began her musical exploration at the age of 22. After a few short years of exploring her voice, she has cemented herself as a force to be reckoned with.
Nardean effortlessly traverses rap, singing and poetry in a genre she describes as 'post-hop;' influenced by hip hop, while also drawing on elements of neo-soul, electronica, glitch and RnB.
After releasing her debut record, Creatress, in 2019 to a resounding round of industry applause, she has recently released her second EP, THE NEW ERA, with support from Campbelltown Arts Centre and Create NSW.

Set 2: Robbie Miller
If there is one enduring, almost mythical, storyline in music, it is the 'bedroom to big stage' success story, a story that Brisbane's Robbie Miller has been living.
In 2013, Robbie was working on his music largely in isolation. He recorded some songs in his bedroom, uploaded them to Triple J Unearthed, and landed himself the Triple J Unearthed National Indigenous Music Award (NIMA) for best new Indigenous talent.
Since the NIMAs win Robbie has released two EPs, The Faster The Blood Slows (2015), and Closer To Home (2016). He has garnered strong support from Triple J and Double J, toured with Josh Pyke, Dustin Tebbutt and recently The Rubens, played major festivals around the country, and won an APRA Music Award for his song, The Pain, which was named the Blues and Roots Song of The Year.
Free event. No tickets or registration required.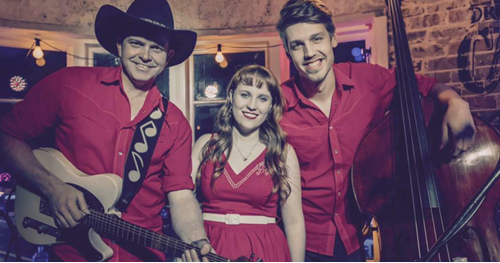 Lozz Benson is That Red Head, and wrangles her rodeo from behind the drums! Coming from a Jazz & Rockabilly background, she now plays honky tonkin' tunes with her Country & Western Trio.
Over the years the band has appeared at The Fifties Fair, Tamworth Country Music Festival and supported Slim Jim Phantom (The Stray Cats). Lozz has toured the world with John Butler Trio, recorded with The Wiggles and is currently writing an EP with Jim Moginie (Midnight Oil) and Steve Balbi (Noiseworks).  
Free event. No tickets or registration required.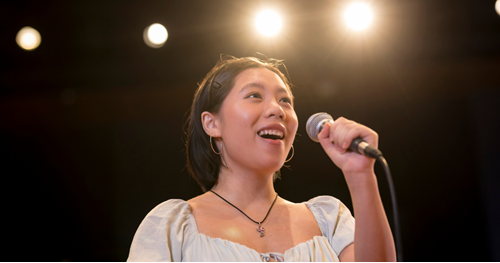 Join us for a night of fresh, new contemporary music from the Sydney Conservatorium of Music. From electronic tunes to make you dance, indie rock to make you stomp, to singer-songwriters who will weave their original stories for you.  
Be the first to see these talented emerging artists showcase the best of their work. We will be joined by celebrated recent alumni and faculty including Dr Toby Martin (Youth Group) and Dr Jadey O'Regan (Jane vs World). This will be a very special event to hear the latest in current contemporary music in Sydney – don't miss out!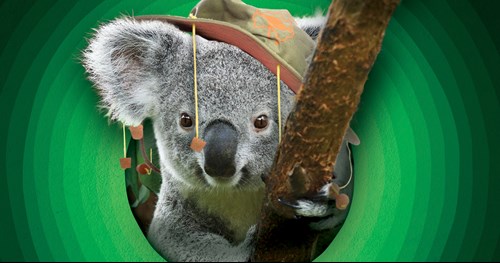 Squabbalogic returns to the Seymour for a celebration of Australian music theatre works, presented by some of the freshest talents from within the music theatre industry.
As Squabbalogic prepares to present the world premiere season of The Dismissal: An Extremely Serious Musical Comedy later this year, they look back at the development of Australian musicals across the years, and highlight some of the newest voices to be making waves within the industry.
Featuring original songs from shows you love, shows you may never have seen and songs that are still in search of a production, there will be exciting new talents to discover in this unique performance, presented with the classic Squabbalogic flair you love.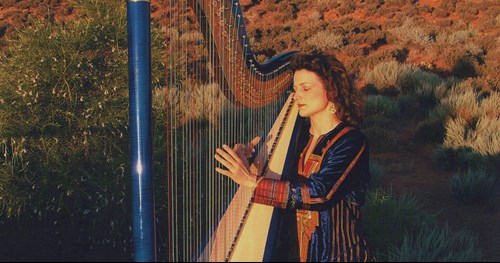 Alice Giles AM is celebrated as one of the world's leading harpists. First Prize winner of the Eighth Israel International Harp Contest, she has had a wide and varied international solo career, from London's Wigmore Hall, New York's Merkin, 'Y' and Carnegie Halls, to Mawson Station, Antarctica, and continues to tour annually in the USA, Europe and Asia.
She was regarded by Luciano Berio as the foremost interpreter of his Sequenza II, and as Director of the Seven Harp Ensemble (SHE) has commissioned many new works by Australian composers as well as a complete program of solo works for the electro-acoustic harp.
Alice was awarded an AM (Member of the Order of Australia) in the 2017 Queen's Birthday Honours for "significant service to the performing arts as a harpist, mentor and educator, and through contributions to Australia's musical landscape."
Alice will present a diverse program including works by Salzedo, Debussy, Nigel Westlake, and Elena Kats-Chernin.

Set 1: Kirsty McCahon (double bass) with Virginia Comerford (viola)
Kirsty McCahon (double bass) presents a stunning set that transports listeners from the earth, up to birdsong in full flight, before resting back down to the ground while clinging to a sense of timelessness. Beginning with a handful of achingly beautiful Baroque vocal duets and canons, lines that move and weave through each other, voices playing and dancing to pied butcher bird musings from Hollis Taylor to the hauntingly beautiful yet edgy tones of the 6 string violone and finally a coda from Elena Kats-Chernin which literally swells and then drifts away to nothing.
Program:
Bach/Palestrina/Locatelli - Duo's (double bass and viola duets) 10'
Hollis Taylor - Banana Paper (solo bass and tape) 5' 
Kate Moore - Icarus (solo bass) 4'
Improvisation on a theme of Francesca Caccinni (violone solo with tape) 4'
Elena Kats-Chernin - Adrift (bass and viola duet) 6'
Set 2: Véronique Serret (6 string electric violin)
Véronique Serret (violin) struts her stuff on the 6 string electric violin, an unusual and endlessly rich instrument she has been developing a repertoire for over the last few years. In this special set she brings us three of her own new works alongside Berlin based Cathy Milliken's heart wrenching Crie which features Véronique as vocalist and violinist. Brisbane composer Chris Perren's A Stolen Satellite, creates swirling rhythmic loops providing layers over which the live violin soars.
Program:
Véronique Serret - Bush Mujik, Watercolour, Runs Deep 12'
Cathy Milliken -Crie 8'
Chris Perren - A Stolen Satellite 10'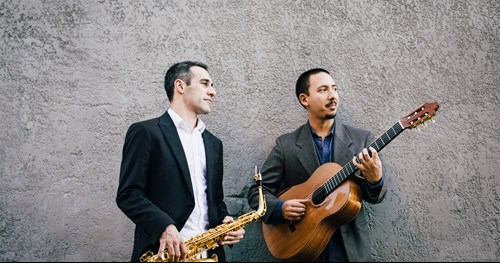 Duo Histoire is one of Sydney's finest emerging classical ensembles, always delivering fresh performances in a variety of musical styles. Their broad repertoire ranges from Argentinian tango to Spanish romantic music, from Bossa Nova standards to Classical repertoire. This unique combination of classical guitar and saxophone features award-winning musicians Murilo Tanouye and Nick Russoniello.
Since its formation in 2006, Duo Histoire has rapidly attracted the attention of audiences, appearing in music festivals and giving concerts across the country. Recently the Duo has recorded for ABC Classic FM, broadcast for Fine Music 102.5FM, performed at the Sydney Opera House for the prestigious Utzon Room Series and appeared as soloists with The Metropolitan Orchestra.
Duo Histoire will present an exciting program showcasing the diversity of the saxophone and guitar, with works by Debussy, Houghton, and Piazzolla.
Image credit: Jacquie Manning

Blair Harris (cello), Claire Edwardes (percussion), Jason Noble (clarinets), Lamorna Nightingale (flutes)
In this program we join forces on a new work by Perth composer Simon Charles commissioned last year as part of our Hatched HOME Academy in 2020, providing new opportunities for artists during COVID – as well as Bitter Springs Creek 2014 by Hollis Taylor and Jon Rose which celebrates the duelling calls of the pied butcher birds of central Australia.
Four of our core musicians shine as soloists with a classic from Kaija Saariaho, a new piece from emerging composer Johannes MacDonald alongside world premieres from local ladies Melody Eötvös, Bree van Reyk and Alice Humphries.
Come and bask in our slipstream, a visual and sonic wonderland for the senses.
Program:
Johannes MacDonald – The Sun is Coming (a warning from Ra) (contrabass clarinet solo) (2021) 12
Melody Eötvös – Antumbra (vibraphone, glockenspiel + electronics) 6′ WP
Bree van Reyk – Slipstream (vibraphone + balls) 6' WP
Hollis Taylor/Jon Rose – Bitter Springs Creek 2014 (flute, clarinet, vibraphone + tape) 9'
Alice Humphries – Step 4'30
Kaija Saariaho – Sept Papillons 11'
Simon Charles – Hatched Home Academy Quartet (flute, clarinet, percussion, cello) 10' WP
We are a registered COVID-Safe business and we're committed to making your Seymour visit as safe and enjoyable as possible.
Face masks are currently mandatory in our venue for patrons over 12, so please wear your mask throughout the indoor performances and until you leave the venue. Please also remain in your allocated seat to help ensure a calm and safe experience for all.
Find out about our other COVID safety measures here.
| | |
| --- | --- |
| Fri 7 May | Cancelled |
| Fri 14 May | 6pm - 8pm |
| Fri 21 May | 6pm - 8pm |
| Fri 28 May | 6pm - 8pm |
| Sat 29 May | 5:30pm - 7:15pm |
Time includes 30 minute interval between sets.
In the event of rain, performances will move indoors to the Sound Lounge at a limited capacity.
Free. No tickets or registration required.
| | |
| --- | --- |
| Sat 5 Jun | 8pm - 9:30pm |
| Fri 11 Jun | 8pm - 9:30pm* |
| Sat 12 Jun | 8pm - 9:30pm** |
| Sat 19 Jun | 8pm - 9:30pm |
| Fri 25 Jun | 8pm - 9:30pm** |
| Sat 26 Jun | 8pm - 9:30pm |
Doors open 7pm. Time includes 20 minute interval between sets.
*Photography and filming prohibited for this concert.
**Partial lockout applies and photography and filming prohibited for these concerts.
$6 transaction fee applies.
The only authorised ticket seller for this event is Seymour Centre. If you purchase from an unauthorised seller, you risk that your tickets may be fake or invalid.
More Events