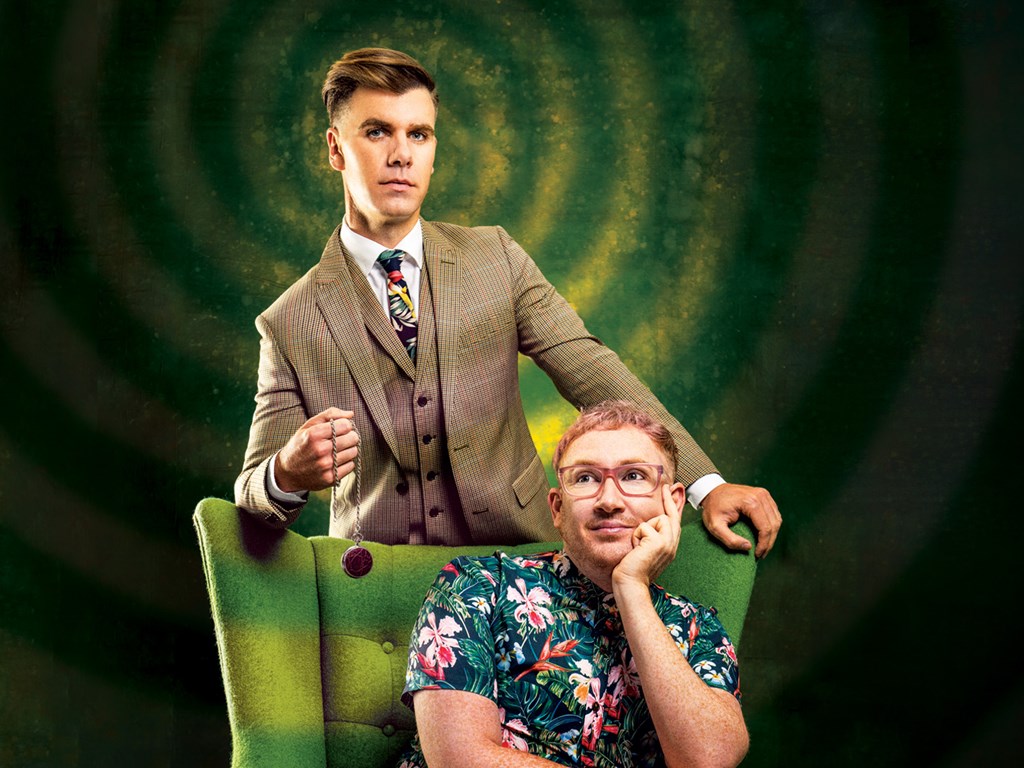 Squabbalogic and Seymour Centre present
On A Clear Day You Can See Forever
17 Feb - 12 Mar 2022
Following in the footsteps of their award-winning, sell-out productions of The Drowsy Chaperone and Man of La Mancha, Squabbalogic once again blends the ingredients of time, genre, heart and humour by revising, revamping and completely reimagining this winsome 1960s screwball comic gem, for 2022 with a modern queer twist.
In an effort to quit nicotine at the behest of his humourless fiancé, David Gamble (Jay James-Moody, Herringbone) enlists the services of psychiatrist and hypnosis researcher, Dr Mark Bruckner (Blake Bowden, The Book of Mormon). What begins as a simple regression soon turns into something otherworldly as the doctor discovers inside David the presence of Melinda Welles, a charming young woman who died tragically decades earlier. As Dr Bruckner continues to meet with and fall for the scintillating Melinda via dowdy David's subconscious, the unaware David finds that he is falling for the handsome Dr Bruckner.
On A Clear Day You Can See Forever was written for Broadway and adapted into a 1970s film starring Barbra Streisand. This all-new take is adapted from Alan Jay Lerner's original by Jay James-Moody, who teams up with the legendary Kelley Abbey to co-direct this hilarious and heart-warming supernatural comedy of errors.
Exploring modern themes of sexuality, gender identity, and ethics, this fast-paced, joyous, and musical delight features all-new arrangements of Alan Jay Lerner and Burton Lane's wonderful songs including Hurry It's Lovely Up Here, She Wasn't You, Melinda, Come Back To Me, and naturally, On A Clear Day You Can See Forever.
Image credit: Harvey House & Kenney Designs
Book & Lyrics Alan Jay Lerner 
Music Burton Lane
Revised & Adapted by Jay James-Moody 
Co-Directors Kelley Abbey & Jay James-Moody
Choreographer Kelley Abbey
Musical Director, Orchestrations & Arrangements Natalya Aynsley
Set & Costume Designer Michael Hankin 
Lighting Design James Wallis
Sound Designer Oliver Brighton
Casting Director Daisy Hicks
Cast Blake Appelqvist, Blake Bowden, Stefanie Caccamo, Grace Driscoll, Lincoln Elliot, Jay James-Moody, Madeleine Jones
By arrangement with ORiGiN Theatrical on behalf of The Burton Lane Estate
We are a registered COVID-Safe business and this event will have strict COVID-Safe policies in place, guided by public health advice, University of Sydney directives, and our commitment to this joint COVID-Safe statement from Sydney theatres.
Most notably, all eligible patrons on your booking will be required to show proof of double vaccination when checking in for your performance. Eligible patrons are patrons 16 years and older who do not have proof of medical exemption.
Face masks and QR code check-in upon entry will also be required. 
Please also be advised that at present, this event will be open to 100% seated capacity. Please consider your comfort levels before booking as you may be seated alongside other booking groups.
You can find out more about our safety measures here, and we will also send safety information directly to you prior to your visit. To ensure we can reach you, we recommend checking that your contact information is up to date.
Reginald Theatre
| | |
| --- | --- |
| Thu 17 Feb | 7:30pm |
| Fri 18 Feb | 7:30pm |
| Sat 19 Feb | 2pm, 7:30pm |
| Mon 21 Feb | 6:30pm |
Reginald Theatre
| | |
| --- | --- |
| Tue 22 Feb | 7:30pm (Not on sale) |
| Wed 23 Feb | 7:30pm |
| Thu 24 Feb | 7:30pm |
| Fri 25 Feb | 7:30pm |
| Sat 26 Feb | 2pm, 7:30pm |
| Mon 28 Feb | 6:30pm |
| Tue 1 Mar | 7:30pm |
| Wed 2 Mar | 1pm, 7:30pm |
| Thu 3 Mar | 7:30pm |
| Fri 4 Mar | 7:30pm |
| Sat 5 Mar | 2pm, 7:30pm |
| Mon 7 Mar | 6:30pm |
| Tue 8 Mar | 7:30pm |
| Wed 9 Mar | 2pm, 7:30pm |
| Thu 10 Mar | 7:30pm |
| Fri 11 Mar | 7:30pm |
| Sat 12 Mar | 2pm |
120 minutes (including interval). Partial lockout applies.
On a Clear Day You Can See Forever is currently available to purchase as part of a Seymour Season: Part One mini multipack, alongside three other shows. Buy a multipack to save up to 20% on tickets and enjoy great live performance for less.
| | |
| --- | --- |
| Preview | $69 |
| Full | $79 |
| Concession | $69 |
$6 transaction fee applies.
If you are booking with a Dine & Discover voucher, please note that in line with the Dine & Discover T&Cs, only one voucher can be used per transaction. Vouchers can only be redeemed when booking online. Find out more here.
Contains haze smoke. Photography and filming prohibited.
The only authorised ticket seller for this event is Seymour Centre. If you purchase from an unauthorised seller, you risk that your tickets may be fake or invalid.
More Events