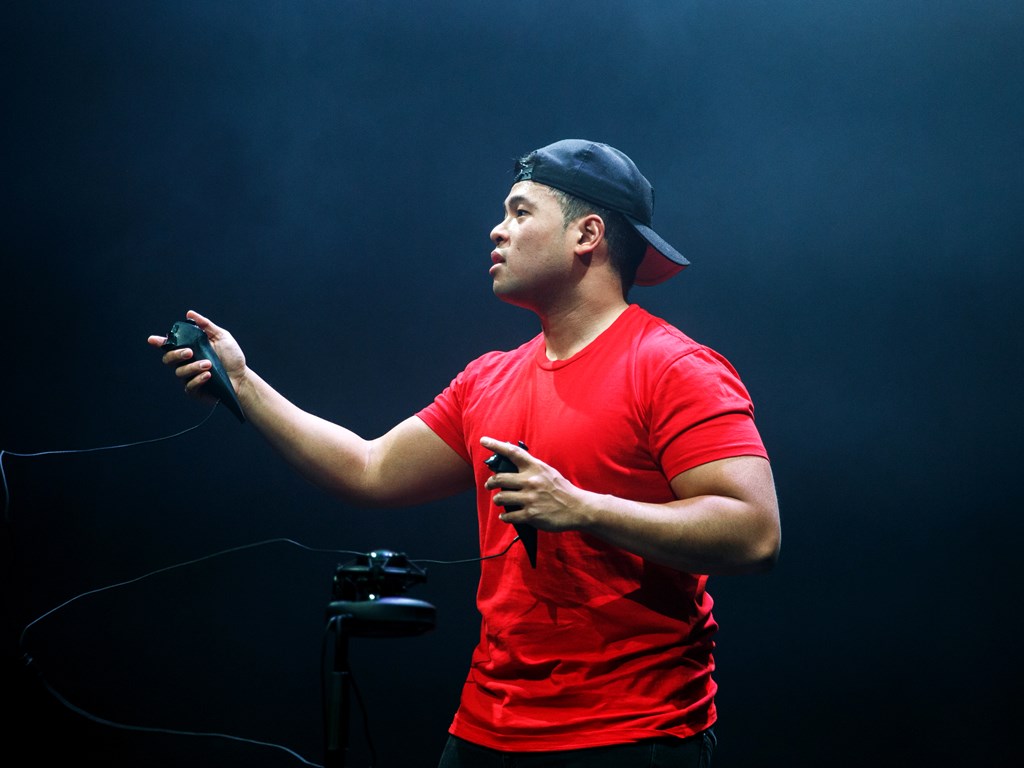 Shaun Parker & Company and Seymour Centre present
In The Zone
16 - 19 Sep 2020
Hip-hop dance meets gaming technology in this ground-breaking work harnessing captivating new technology called AirSticks, which create live sound through movement.
Conceived by award-winning choreographer Shaun Parker and digital sound designer Alon Ilsar, In the Zone is not only fun and exciting theatre – it also empowers young audiences to consider themes such as technology, man-made global warming, personal choice and resilience.
In the Zone places the Airsticks in the hands of phenomenal Western Sydney hip-hop dancer Libby Montilla, who triggers electronic soundscapes as he makes his way through the various levels of a video game. Locking, popping, body-ticking and krumping are inspired by the stunning soundscape which includes crunchy electronica, atmospheric strings, funky drum loops and the sounds of birds, ocean waves and nature – all intrinsically linked to Libby's outstanding body animation and storytelling.
In the Zone is a stunning journey.
A FREE education resource is available.
Shaun Parker & Company is assisted by the Australia Government through the Australian Council for the Arts, its arts funding and advisory body and supported by the NSW Government through Create NSW.
Tickets: School groups $20 per student. One teacher free per 10 students.
Suitability:
Years 3 – 10
Stage 2 Music, Drama, Dance, PDHPE, English, Science & Technology
Stage 3 Music, Drama, Dance, PDHPE, English, Science & Technology
Stage 4 Dance, PDHPE, English
Stage 5 Dance, PDHPE, English
Q&A: 20-minute interactive Q&As will take place after all schools performances.
Workshops: Expand your experience with a 20 minute In the Zone workshop after the show, at $5 per student (maximum 20 students). Students can explore AirSticks technology and hip-hop dance techniques such as tutting and popping with Libby Montilla, who will get them to interact with this fun, body-music technology, creating their own sounds and augmented realities.
A one hour In the Zone workshop can also be provided at your Sydney school before or after In the Zone. In the Zone masterclasses with Shaun Parker are available for HSC dance students. Enquiries: projects@shaunparkercompany.com.
Resources: Full teaching resources are available for all bookings.
Director and Choreographer Shaun Parker
Sound and Instrument Designer Alon Ilsar
Dancer and Collaborator Libby Montilla
Lighting Designer Benjamin Brockman
York Theatre
| | |
| --- | --- |
| Wed 16 Sep | 10am |
| Thu 17 Sep | 10am |
| Fri 18 Sep | 10am |
| Sat 19 Sep | 10am |
70 mins (no interval). Partial lockout applies. Late arrivals will be seated at the back.
$6 transaction fee applies.
Contains haze. Photography and filming prohibited. 
The only authorised ticket seller for this event is Seymour Centre. If you purchase from an unauthorised seller, you risk that your tickets may be fake or invalid.
More Events