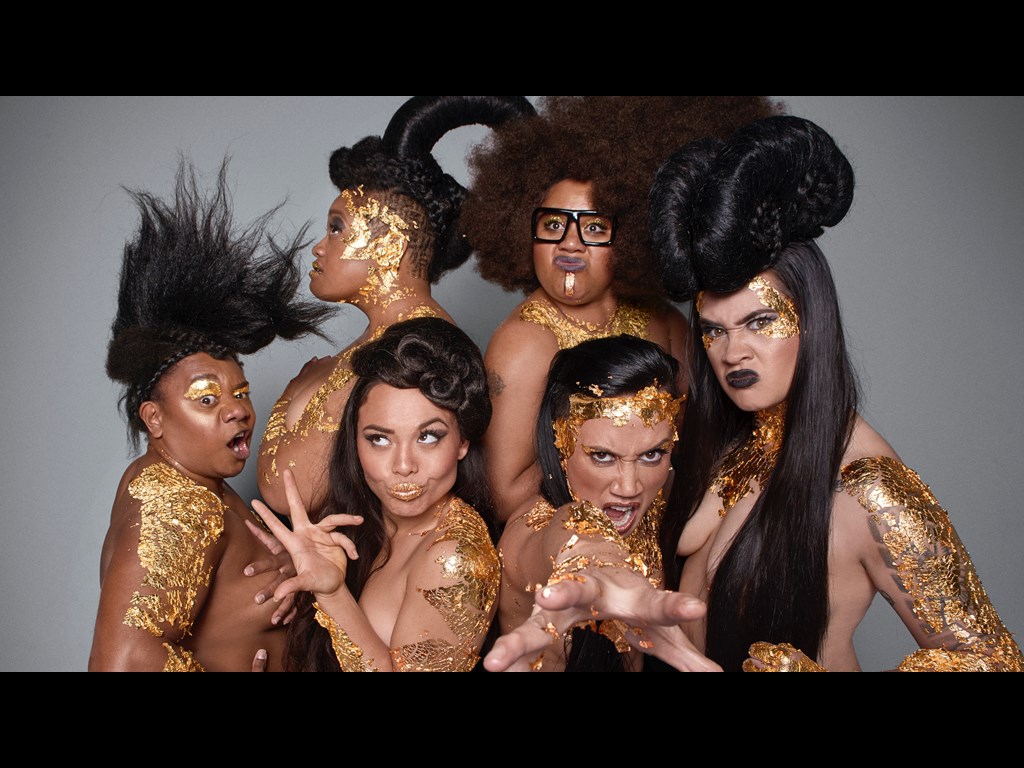 Sydney Gay and Lesbian Mardi Gras presents
Hot Brown Honey
25 - 28 Feb 2020
Hot Brown Honey turns up the heat with lashings of sass and a hot pinch of empowerment in the smash-hit, genre-defying, firecracker of a show that's taken the world by storm. Steeped in the Word of The Mother and packing a punch of Hip Hop politics, Hot Brown Honey will make you laugh until you cry, clap until your hands bleed, dance in the aisles and shake every part of what your mama gave you.
With lighting, music and costume set to ignite the change we want to be, Hot Brown Honey is an extraordinary production that spins tradition on its head, going above and beyond to challenge boundaries and embrace resilience.
Hot Brown Honey is unapologetically fierce, defiantly shattering preconceptions in an explosion of colour, culture and controversy. Fighting the power never tasted so sweet.
Winner: Total Theatre Award – Innovation, Experimentation and Playing with Form.
Winner: Green Room Awards – Best Production (Cabaret).
Winner: Green Room Awards – Best Design (Cabaret).
Winner: Helpmann Awards – Best Cabaret Performer.
Nominee: Helpmann Awards – Best New Australian Work.
"Hilarious, raunchy, provocative, sassy, in-yer-face political cabaret."

Scenestr
Writing Kim 'Busty Beatz' Bowers and Lisa Fa'alafi
Based on the original concept and script, Hot Brown Honey Burlesque, by Kim Bowers, Candice Bowers and Lisa Fa'alafi
Direction Lisa Fa'alafi
Music Direction Kim 'Busty Beatz' Bowers
Technical Direction and Lighting Design Paul Lim (Additive)
Production Design Lisa Fa'alafi
Original Composition Kim 'Busty Beatz' Bowers, Ofa Fotu, Hope Haami and Lisa Fa'alafi
Costume Design Lisa Fa'alafi and Colleen Sutherland
Choreography Lisa Fa'alafi
Additional Choreography (The Privilege Test) Samantha Williams
Sound Design Kim 'Busty Beatz' Bowers
Set Design Tristan Shelly
Company Manager Colleen Sutherland
Production Manager Jake Jobling
Produced by Quiet Riot International
Executive Producer Linda Catalano
Associate Producer Lucy Day
In partnership with Kim 'Busty Beatz' Bowers and Lisa Fa'alafi
The Game Changer Lisa Fa'alafi
Hope One The Beatboxer Hope Haami
The Peacemaker Crystal Stacey
The Love Liberator Kalala Sione
The Groundbreaker Ghenoa Gela
The Queen Bee Busty Beatz
And featuring the voices of
The Mother Aunty Nancy Bamaga
In The Privilege Test Rhianna Patrick
Everest Theatre
| | |
| --- | --- |
| Tue 25 Feb | 8pm |
| Wed 26 Feb | 8pm |
| Thu 27 Feb | 8pm |
| Fri 28 Feb | 8pm |
75 mins (no interval). Late-arriving patrons may only enter during first 10 minutes of performance.
| | |
| --- | --- |
| Full | $49 |
| Concession | $43 |
| Mardi Gras Member | $41.50 |
$6 transaction fee applies.
For ages 15+. Contains nudity, drug use, coarse language, sexual references, adult themes, haze, smoke, strobe lighting and loud noises. Photography and filming prohibited.
More Events
19 - 23 Feb 2020

Past Event

22 - 23 Feb 2020

Past Event

18 - 19 Feb 2020

Past Event