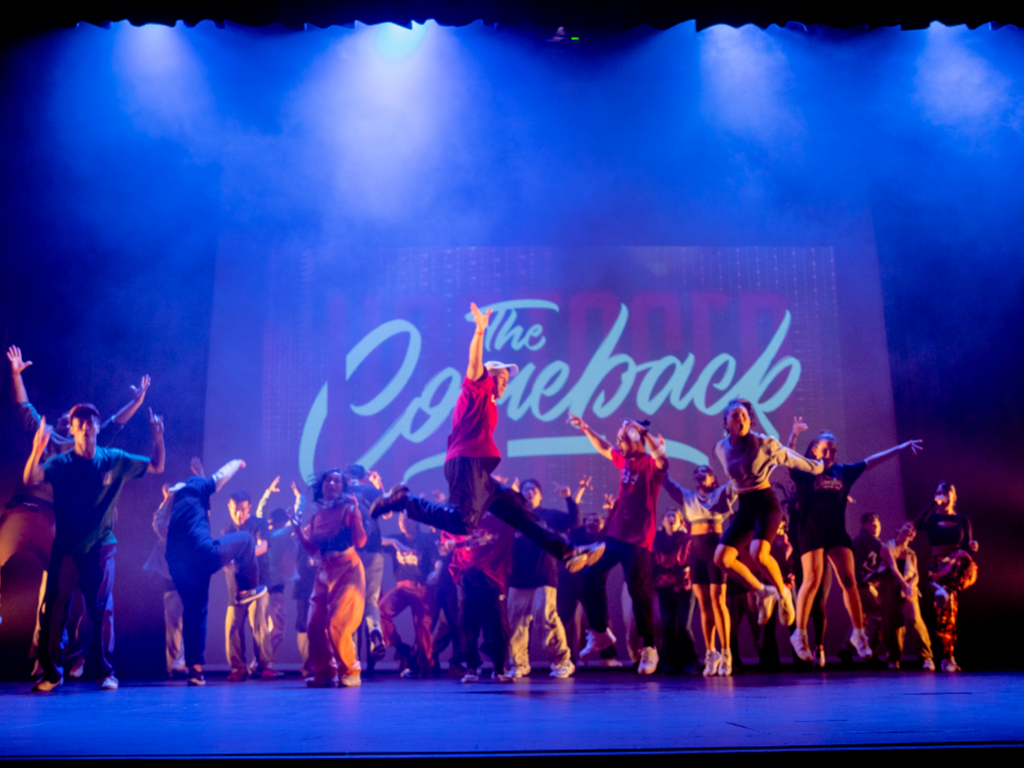 Crossover Dance Studios presents
UPstaged 2022 - Onwards and Upwards
A Street Dance Performance Showcase
21 MAY 22
Throughout the last year we've all experienced some rough times with lockdowns, isolation, and not being able to meet up, connect, and dance with each other. But now we're all back at it, and it's time to look onwards and upwards!
UPstaged 2022 - Onwards and Upwards is a celebration of street dance, community and the ability to dance with one another again! Each student showcase and dance crew is keen to show you what they've been working on in lockdown and their outlook and feeling for the future. Most of all, we want to come together and dance with you all again!
Featuring dance performances in the styles of Hip Hop, Popping, Locking, Choreography, House, Girls Choreo, Waacking, Soul, and more, it's our pleasure to be back on stage for you. With things looking up, it's time to take the opportunity to come together, enjoy dance with friends, and celebrate on stage once again! 
Image credit: Sameed Khan
Street Dance Showcase Pieces:
Choreography Akane 'Necchi' Furuta
Foundations Akane 'Necchi' Furuta
Girls Choreo Carmen Tang and Emily Cheung
Choreography Caroline Phengrasmy
Waacking Clive Elwood
Hip Hop Chizuru Yokata
Hip Hop Daisuke Iwase
Popping Jack Wardana
Soul Dance Kaye Li
Locking Keanu Wardana
Popping Kevin Dai
Krump Mali Ho
Choreography Miku Ono
Girls Choreo Miku Ono
House Robin Chen
Choreo Rosanna Mach
Hip Hop Ryu Doteuchi
Hip Hop Shannon Campradt
Choreography Tony Sletter
Choreo/Popping Valdi Yudibrata and William Mak
And Featuring The XO Kid's Showcase
Featured Dance Society Crews D2MG of UNSW, MDA of Macquarie University, MODsoc of UNSW, SoulXpress of Sydney University and UTS Hip Hop Society of UTS
Featured Sydney Dance Crews B&F Association Ding Ding Boom!, Gacha Gacha, GGG&Friends, Funk the Dance Scene, Minaide! and Sydney Popping Unit
We are a registered COVID-Safe business with measures in place to make your next Seymour visit safe and enjoyable. You can find out more about our safety measures here, and we will also send safety information directly to you prior to your visit. To ensure we can reach you, we recommend checking that your contact information is up to date.
Everest Theatre
| | |
| --- | --- |
| Sat 21 May (Full Dress Rehearsal) | 2:30pm |
| Sat 21 May (Main Performance) | 6:30pm |
180 minutes (including interval). Partial lockout applies.
| | |
| --- | --- |
| 2:30pm (Full Dress Rehearsal) | $35 |
| 6:30pm (Main Performance) | $45 |
$6 transaction fee applies.
Please note only one Dine & Discover voucher can be used per transaction. Multiple Parents NSW vouchers can be used per transaction, up to a total transaction amount of $250. Dine & Discover and Parents NSW vouchers can only be redeemed when booking online. Please find instructions here on how to redeem your vouchers online.
Parental guidance recommended for 6:30pm show. Contains sexual references, haze smoke, and loud or sudden sounds. 
The only authorised ticket seller for this event is Seymour Centre. If you purchase from an unauthorised seller, you risk that your tickets may be fake or invalid.
More Events