Mini Multipacks - 2022 Seymour Season: Part One
1 Dec 2021 - 30 May 2022
See more and save with a 2022 mini multipack
Return to the joys of live theatre with a Seymour Season mini multipack! Book tickets for two or more shows in Part One of our season (excluding The Museum of Modern Love) and save up to 20%:
Buy four shows and save 20%
Buy three shows and save 15%
Buy two shows and save 10%
How to book
Book your mini multipack at the link above by selecting your preferred ticket type, dates and times. You'll then be prompted to add your personal details and make payment. Once completed, you will receive a booking confirmation via email. It's that easy.
Free exchanges
Change of plans? Exchange your mini multipack ticket to another performance time without incurring a fee. Applies to the same show for the first exchange. Additional exchanges will incur a fee of $5.50. To make an exchange, please contact the Box Office on 02 9061 5344.
Extra tickets
Want to share your theatre experience with a friend? Once you've finalised your mini multipack purchase online, just call the Box Office to add a standard single ticket to your order. Please have your multipack booking reference number ready.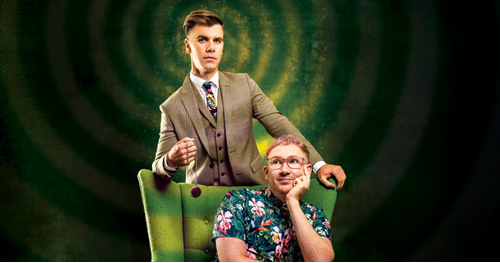 IMPORTANT UPDATE 2 FEBRUARY 2022: Due to the ongoing impact of COVID-19, this event has been cancelled and is no longer available to purchase as part of a 2022 mini multipack. If you are an existing ticketholder, you will be contacted by our Box Office.
Following in the footsteps of their award-winning, sell-out productions of The Drowsy Chaperone and Man of La Mancha, Squabbalogic once again blends the ingredients of time, genre, heart and humour by revising, revamping and completely reimagining this winsome 1960s screwball comic gem for 2022 with a modern queer twist.
In an effort to quit nicotine at the behest of his humourless fiancé, David Gamble (Jay James-Moody, Herringbone) enlists the services of psychiatrist and hypnosis researcher, Dr Mark Bruckner (Blake Bowden, The Book of Mormon). What begins as a simple regression soon turns into something otherworldly as the doctor discovers inside David the presence of Melinda Welles, a charming young woman who died tragically decades earlier. As Dr Bruckner continues to meet with and fall for the scintillating Melinda via dowdy David's subconscious, the unaware David finds that he is falling for the handsome Dr Bruckner.
On A Clear Day was written for Broadway and adapted into a 1970s film starring Barbra Streisand. This all-new take is adapted from Alan Jay Lerner's original by Jay James-Moody, who teams up with the legendary Kelley Abbey to co-direct this hilarious and heart-warming supernatural comedy of errors.
Exploring modern themes of sexuality, gender identity, and ethics, this fast-paced, joyous, and musical delight features all-new arrangements of Alan Jay Lerner and Burton Lane's wonderful songs including Hurry It's Lovely Up Here, She Wasn't You, Melinda, Come Back To Me, and naturally, On A Clear Day You Can See Forever.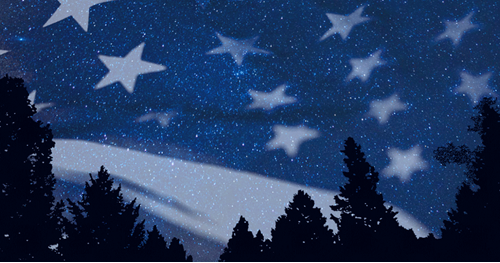 ★★★★★ "The best new play of the year." Time Out, New York
Following their smash hit, Ulster American, Outhouse Theatre Co presents the Australian premiere of a bold and startling new play—the Pulitzer Prize finalist, Heroes of the Fourth Turning.
You won't have seen a play like it—a disarming lens on conservative Catholicism and its disciples during the Trump era.  
It's nearing midnight in Wyoming, where four young college alumni gather at a backyard after-party. They've returned to celebrate their mentor, Gina, newly inducted as president of a small Catholic college. But as spiritual chaos descends, the celebrations unravel to reveal the divisions fracturing their beliefs, their country and themselves.
At a time when tribal lines between 'us' and 'them' are fiercely drawn, Will Arbery's haunting play offers grace, insight and understanding—and a timely reminder of theatre's power to provoke, stimulate and confront.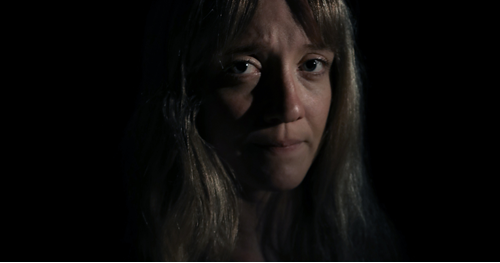 "[A] knockout... high-octane naturalism of the most expert..." The New York Times
Every day, Gail and the regular members of her early morning group set up for their meeting in the exact same way: Nicole makes the coffee, Gail arranges the chairs, and Ron complains.
As they forge a path toward sobriety and wellbeing, they come to rely on the routine and each other.
But when Gail's estranged granddaughter reopens old wounds, Gail knows it will take more than coffee, chairs, and companionship to keep her life from falling apart.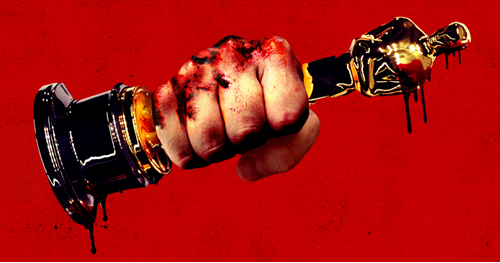 "Exceptional. Damned funny and provocative. Impeccably cast." The Sydney Morning Herald
The "brazen, savage and brilliantly hilarious" (Limelight) satire that wowed critics and audiences in 2021 returns for a special encore run.
Gleefully skewering the powerful and privileged in post-#MeToo showbiz, this ferocious comedy will have you laughing and gasping in equal measure.
A talented female playwright, an Oscar-winning actor and an ambitious theatre director meet to discuss a play that promises glory for all. But as lines are crossed and the power of Hollywood looms, the love-in descends into mayhem.
After playing to sold-out houses and five-star reviews in 2021, the acclaimed Outhouse Theatre Co brings this provocative and brutally hilarious production back to where it all began.
With only five shows available, these tickets will sell fast, so book yours now!
Not for the faint of heart. Not to be missed.
We are a registered COVID-Safe business with measures in place to make your next Seymour visit safe and enjoyable. You can find out more about our safety measures here, and we will also send safety information directly to you prior to your visit. To ensure we can reach you, we recommend checking that your contact information is up to date.
More Events
31 Mar - 23 Apr 2022

Past Event