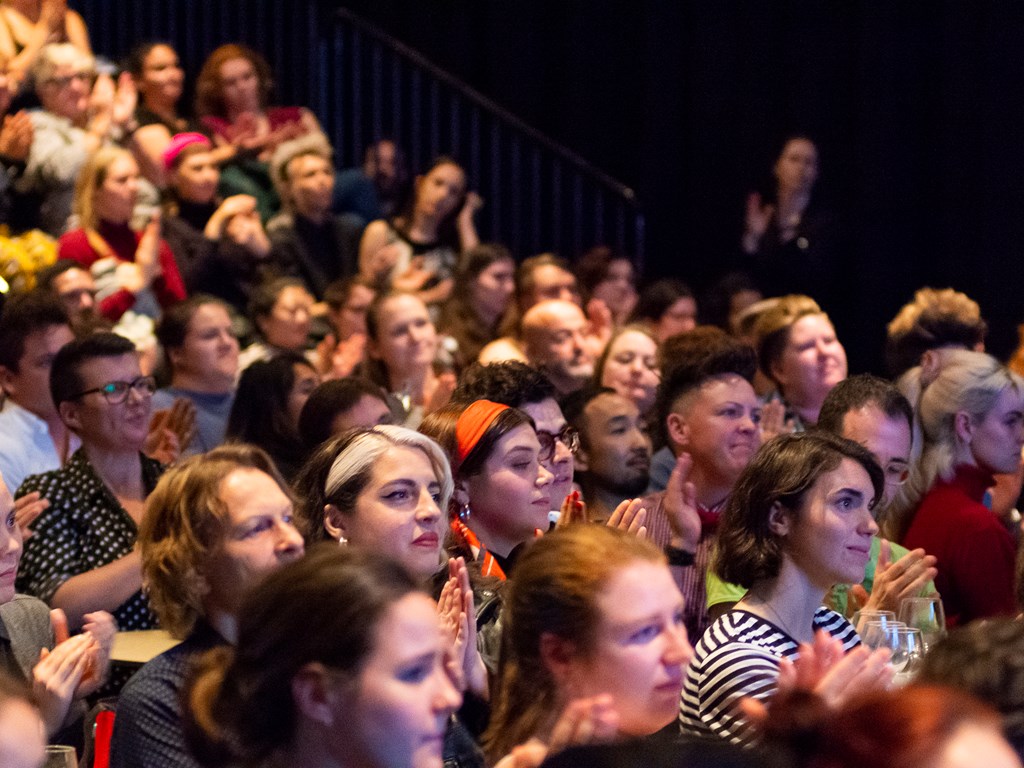 Sydney Gay and Lesbian Mardi Gras presents
Queer Thinking
22 - 23 Feb 2020
A thought-provoking series of talks exploring queer activism in our own backyard and globally.
Around the world, LGBTQI+ activists are on the frontline of protest, agitation and grassroots community organising. Queer Thinking will explore activism in our own backyard and globally, reflecting on our legacies and contending with our futures.
Bring your rage, your solidarity and your curiosity. Across two days, leading thinkers, writers, organisers and academics will traverse topics from law reform to prison abolition, mutual aid projects to data marginalisation, religious freedoms to trans liberation.
Queer Thinking will take over the Seymour Centre for a weekend of workshops, panels and in-conversations. In addition to the ticketed sessions, there will be free community events, a mass sing-along with the Welcome Choir, a letter-writing workshop, social events celebrating queer literature presented in partnership with Better Read Than Dead, and plenty of places to continue the conversation.
If you are unable to attend this event due to lack of funds, please contact Maeve Marsden at hello@maevemarsden.com.
Image credit: Patrick Boland
12pm – 1pm
"What has changed? What remains the same?" Dennis Altman
Reflecting on the early days of gay liberation in Australia, the homosexualisation of America, and subsequent rise of the far right in both nations; Dennis Altman and Raewyn Connell will unpack the past, consider the present and pontificate on the future. Have we achieved post – gay? Is nostalgia a milestone around the neck of the queer revolution? And what change can one manifest from within the ivory tower?
1.30pm – 3.00pm
"Every empire, however, tells itself and the world that it is unlike all other empires, that its mission is not to plunder and control but to educate and liberate." Edward W.Said
When Taiwan passed marriage equality in 2019, the move was celebrated globally: the first Asian nation to achieve this historic reform. But in a region with violent histories of colonialism and contemporary State oppression, does mainstream Australia's continued focus on marriage equality as a measure of progress help or hinder? What does universal LGBTQI equality actually look like?
Featuring Patrick Thomsen (NZ), Henry Tse (Hong Kong), Matcha Pornin (Thailand) and more to be announced.
5pm  – 6pm
"Stop police attacks, on women, gays and blacks"
The chant from the first Mardi Gras in 1978 pulled no punches. What has happened in the intervening years? LGBTQI+ people are more likely to engage with behaviour that can result in gaol time than the general population, sistergirls and trans women are locked up in male prisons, HIV transmission is criminalised – but state violence and prison abolition has dropped off the mainstream gay agenda.
With cops now a feature at Pride parades, and the ever increasing demands for hate crime legislation and carceral repercussions  – have we lost our way? How can we better support communities experiencing State violence, and get our abolition mojo back?
Featuring Witt Church and more to be announced.
6pm – 6:30pm
"Y'all better quiet down. I've been trying to get up here all day for your gay brothers and your gay sisters in jail that write me every motherfucking week and ask for your help and you all don't do a goddamn thing for them." Sylvia Rivera, Christopher Street Liberation Day, 1973
Come and learn about how you can support members of your community, or anyone, who is currently incarcerated. Learn the ins and outs of writing to prisoners, the do's and don'ts of sending reading materials, and the joy of coming together to support community.
12pm – 1pm
"I may be crazy, but that don't make me wrong." – Marsha P. Johnson
In the face of continued threats to the lives of trans people, there's no rest for transgender leaders and organisers. From Trump's America, to the Murdoch Press, to the rise and rise of the TERFs and SWERFS – battles rage on all fronts. Join three leading trans thinkers as they outline their vision for the future of transnational trans organising and mutual aid. Is there a trans light at the end of the cisnormative tunnel? What does trans liberation look like?
Featuring Aren Aizura and more to be announced.
1:30pm – 3pm
"Caring for ourselves doesn't mean pacifying ourselves" Dean Spade
Activism can be exhausting; working long hours in stressful conditions for little or no pay. In this context, what does survival look like, is it possible to thrive? Lead by a number of activists engaged in struggles for change, workshop participants will learn strategies for soldiering on when the going gets tough, conflict resolution, negotiation and what to do when it all falls apart.
Featuring Sally Rugg, Roj Amedi and more to be announced.
3pm – 4pm
"You shall not lie with a male as with a woman; it is an abomination." Leviticus 18:22
LGBTQI+ people are placed in direct opposition with religious institutions, but what of those who tick both boxes? In our rush to condemn both historical and contemporary religious homophobia and transphobia, are LGBTQI believers being unfairly sidelined? Queer people of faith discuss religious discrimination, activism, contradictions and what faith means to them.
Moderated by Patrick Thomsen, featuring Dr Y. Gavriel Ansara, Matthew Ng, Nurul Tajularus and more to be announced.
2pm – 4pm
"Without community, there is no liberation." Audre Lorde
Get offline and meet like-minded bookworms at the Big Queer Book Club. BYO your fave book to kickstart a conversation or pick up something new from the Better Read Than Dead Bookstand. It's like speed dating for nerds, like a writer's festival but without all the cis-het people, like Chatty Wednesdays but with something to talk about (yes, that's a Fleabag reference).
A free session for your Sunday arvo, drop in to meet fellow queer thinkers, or just sit in a corner reading and looking smart.
Hosted by Amelia Lush and more to be announced.
4pm - 4:30pm
Last year's election unleashed the religious freedom agenda spearheaded by conservative Christian lobby groups. The ensuing draft Religious Discrimination Bill threatens to unwind decades of progress for the LGBTIQ+ community and people from minority faiths, ignoring the intersection between the queer and religious communities. 
This half-hour panel including human rights activist and legal expert Anna Brown (CEO of Equality Australia) and other leaders from LGBTIQ+ and faith backgrounds will explore how our communities can show resistance against division. Learn more about the threats posed by the Bill, the movement for #FreedomFromDiscrimination and what you can do to ensure our laws protect us all, equally. 
Panelists
Anna Brown OAM, CEO of Equality Australia
Anna Brown's fingerprints are on nearly every major reform for LGBTIQ+ people in recent years. She played a critical role in the campaign for marriage equality co-chairing the Equality Campaign and running the challenge to the postal plebiscite in the High Court.
Anna has been instrumental in hard fought battles to secure federal LGBTI discrimination protections, remove discriminatory laws across the country and right historical wrongs by establishing schemes to erase historical homosexual offences. Anna's legal work has helped to ensure that young trans people can access vital hormone treatment without the cost and delay of going to court, advanced marriage equality and furthered recognition of sex and gender diversity.
Dr. Mehreen Faruqi, Senator in the Federal Parliament
Dr Mehreen Faruqi is the Greens' senator for New South Wales. In 2013, she became the first Muslim woman to sit in an Australian parliament. In 2018, she became Australia's first Muslim Senator. While in NSW parliament, she introduced the first bill to decriminalise abortion. Emigrating from Pakistan in 1992, she worked as a civil and environmental engineer and academic before entering politics. She is a life-long activist for social and environmental justice, and a passionate advocate against racism and misogyny.
Dr. Gávi Ansara (PhD Psychol, MCouns) 
Dr Gávi Ansara is an internationally recognised researcher, psychotherapist, community activist, and policy advisor. He is a religiously observant, anti-colonial lay leader of non-Eurocentric, polycultural Jewish heritage with ties to rural China and elsewhere. For the first empirical research on cisgenderism – oppressive ideology that invalidates some people's understanding of their own genders and bodies – he received the 2012 American Psychological Association's Transgender Research Award for a significant, original research contribution. He won the UK Higher Education Academy's 2011 National Psychology Postgraduate Teaching Award for excellence in teaching and the University of Surrey Vice Chancellor's 2016 Alumni Achievement Award for outstanding contributions to international human rights and social justice. He serves on the Victorian Intersex Expert Advisory Group. He is passionate about challenging systemic oppression wherever he encounters it, including nominally 'inclusive' spaces that aren't. His peer-reviewed book, Challenging cisgenderism: Moving beyond the cisgender/transgender binary, is forthcoming.
4:30pm – 6pm
"With big data comes big responsibilities." Kate Crawford
Filling the gaps in data for marginalised groups is seen as a sure fire way to improve access to health care, education and services. Visibility = acceptance, or does it? As every facet of our online, and many parts of our offline lives become surveilled, what are the potential consequences of an uncritical participation in the pursuit of equal representation?
Three keynotes, spanning Indigenous data sovereignty, the impact of anti-trafficking legislation on sex workers, and surveillance of people crossing borders.
Featuring Dr Leroy Boon-Kuo, Gala Vanting and Ellen Van Neerven
Curated by Maeve Marsden and Nikki Stevens
York Theatre
| | |
| --- | --- |
| Sat 22 Feb | 12pm - 6:30pm |
| Sun 23 Feb | 12pm - 6:30pm |
$6 transaction fee applies
$6 transaction fee applies
More Events