"...squeals of delight and pearls of laughter..."
Suhaila Sulaiman, The Straits Times, Singapore
Funny, physical and fantastically messy, Muckheap is a tale of two people trying to clean out their house for their big move. In the process of packing and sorting they find all their hoarded junk too interesting, useful or too full of memories to throw away.
As a way of coping, the characters throw themselves into a story made up on the spot and illustrated with whatever comes to hand. What emerges is the story of 'Jack and the Beanstalk' … with a twist that parallel's their own situation.
From throwing out junk to creating characters with consummate ease, this show displays the awesome power of the puppeteer. It invites children to become their own story makers and encourages imaginative play through whatever you have at hand.
Muckheap is driven by Polyglot's philosophy of inventive play, children as creators and the idea that the simplest of materials can make for fantastic worlds, with imagination and confidence.
Find out how to WIN free tickets to Muckheap! Click here #MuckheapSC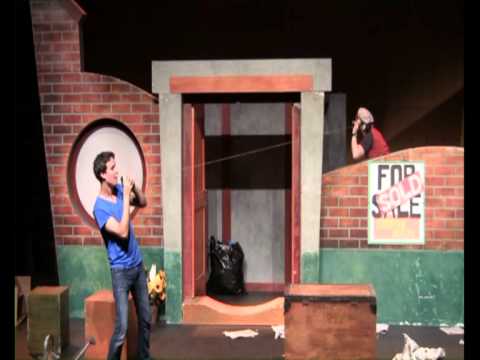 Production Images
Past Reviews
"The Polygot Plays displayed deftness of hand as well as minds, as monsters were fashioned out of old watering cans and little girls out of newspapers. Energetic throughout, the…(show) drew squeals of delight and pearls of laughter – proof that the highly demanding young audience was thoroughly satisfied." – Suhaila Sulaiman, The Straits Times, Singapore
"(Muckheap) is funny, silly and endearing to its young audience.  And best of all, the transformational style of puppetry it uses is the kind that children can easily experiment with at home… maybe even in their own shed… The result is rubbish… in the best way possible" – Chris Thompson, Lowdon
You might also be interested in...