Nora Helmer - heroic feminist, rabid neurotic, or just a selfish runaway?
The Helmers are all set to enjoy a new life together in their new home. Torvald has been promoted to a senior position at the bank and Nora is delighted. At last, they can put their financial troubles behind them. But their fragile happiness is shattered by the arrival of an unexpected visitor. As the lies that Nora has told, and the risks that she has taken to protect her husband are exposed, they are forced to question just how perfect their marriage really is. Now, it seems, only a miracle will set them free.
With the brisk pace and plotting of a thriller, Ibsen's tale of intrigue, fraud and betrayal exposes a world where duty, power and hypocrisy rule.
Hugely controversial when it was first performed in 1879, A Doll's House has lost none of its power as a bold vision of feminist selfhood and rediscovery.
Leaping off the page, Adam Cook's new production has strong contemporary resonances for today's audiences, and promises to be dynamic, passionate and visceral.
A rare opportunity to see this watershed play live in an intelligent and exciting new production. Perfect for discussing language, character, society, gender, status and social values in the classroom.
"I think I am a human being before anything else. I don't care what other people say. I don't care what people write in books. I need to think for myself." NORA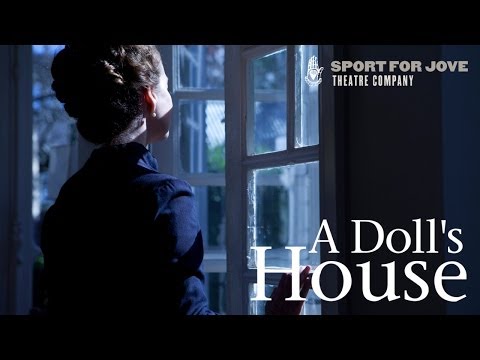 A Doll's House is part of the Reginald Season 2014.
For more information on Sport for Jove visit their website.
School Matinees
Friday 18 July @ 1pm
Tuesday 22 July @ 11am
Thursday 24 July @ 11am
Friday 25 July @ 7.30pm
Tuesday 29 July @ 11am
Thursday 31 July @ 11am
Note: Schools may purchase into alternative GP performances.
Curriculum Links
English HSC Extension 1: Module C: Language and Values
Cast & Creatives
Directed by Adam Cook
Cast includes Matilda Ridgway, Doug Hansell, Barry French, Francesca Savige, Annie Byron and Anthony Gooley.
Reviews
"….the result is 130 minutes-plus-interval of brilliantly absorbing theatre." – StageNoise
"Matilda Ridgeway is a star. Her Nora is neurotic, detailed, impulsive and a thrill to watch." – Stage Whispers 
"It's what director Adam Cook doesn't do that makes Sport For Jove's production of Henrik Ibsen's A Doll's House so memorable." – Daily Telegraph
"This production proves that you can just do the great classics and, if brilliantly directed and acted, they just work." – Crikey
"From start to finish, the production keeps you riveted." - Jo Litson
You might also be interested in...